Trip West Confirms Tappan As Best For Me
My wife and I just returned from a wonderful trip to Yellowstone and Grand Teton National Parks. We flew into and out of Salt Lake City, and drove a rented Mustang convertible both ways. The trip was reminiscent of our first trip west in 1968, when it was just the two of us on our new Triumph sports car. Driving through Utah and Wyoming can be a little daunting for an Easterner- the wide-open spaces are stunning. The train that stops me at a crossing in Rockland County goes by, and with nothing better to do, I find myself counting the cars as they roll by. There, the entire train is visible from one end to another, and it is just a small part of the hundred square miles visible at one time. The towns, such as they are, are small dots that are gone through in a minute or two. I sat on the porch of the lodge we stayed at in Yellowstone, and chatted with a guest from Colorado. He lives in a house where the nearest (convenience) store is a thirty mile drive, and the Walmarts, where they do their real shopping, is a hundred mile round trip. I guessed that he had a large freezer, and he said, no, we have five.
Now, I love the Rockies- this was our fifth trip to the Tetons and Yellowstone. But... it made us very aware of just how special a place we have here in Tappan. It's close enough to the city for an easy trip in, and far enough out to have peace and quiet, and a scale that is, well human. And when my wife says that we need a quart of milk, I will try to remember the rancher's trip to Walmart, and try not to grumble so much.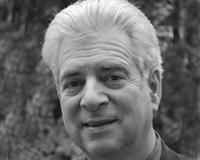 Author:
Thano Schoppel
Phone:
845-729-3902
Dated:
July 23rd 2014
Views:
1,074
About Thano: I have been a resident of Tappan for forty years, and still live in the 1860 Italianate Victorian ho...